Jesus was born with a mission to die.
That was His purpose, the reason He left the splendors of heaven to live as the God-Man on this troubled earth. He would lay down His life so that we may have eternal life in Him.
My good friend Dr. Ed Hindson says, "The greatest moment in the Bible is when Jesus went to the cross and died for our sins. But the greatest miracle in the Bible is when He arose from the dead. The resurrection of Jesus is ultimate truth that He is who He said He is, that indeed He is the Son of God, the Savior of the world."
Jesus' death and resurrection were fulfillments of Old Testament prophecies. Because those prophecies came to pass, we know today — without a shadow of doubt — that New Testament prophecies are also true and that Jesus will one day return.
What a day that will be.
As Dr. Hindson states, "In the end, prophecy is not just about what is going to happen in the future, it is about Who is coming in the future. And Jesus is coming again!"
And yet … many in our world do not believe.
There are a lot of loud voices of non-belief these days. Writer Christopher Hitchens, who died in 2011, called the Gospel "sinister, childish nonsense." Gay-rights advocate Dan Savage has called the Bible many words I would not print in this letter. Actor Ian McKellen has said, "I've often thought the Bible should have a disclaimer in the front saying, 'This is fiction.'" On the TV show "South Park," Jesus is depicted as living in "Imagination Land" with the Tooth Fairy, Santa and other fictitious characters.
There are many other examples. You see, to the world, enlightenment is seen in science, spiritual diversity and humanism, but those who place their faith in Christ are seen as small-minded and ignorant.
How do we live out our faith in a world that sees us this way?
Further, as we celebrate the empty tomb, how do we champion the Risen Christ in a society that largely scoffs at our call to proclaim the Gospel?
Let's examine some wonderful and inspiring words from the Apostle Paul in I Corinthians 15:3-8 for the answer. This passage reads:
"For I delivered to you first of all that which I also received: that Christ died for our sins according to the Scriptures, and that He was buried, and that He rose again the third day according to the Scriptures, and that He was seen by Cephas, then by the twelve. After that He was seen by over five hundred brethren at once, of whom the greater part remain to the present, but some have fallen asleep. After that He was seen by James, then by all the apostles. Then last of all He was seen by me also, as by one born out of due time" (NKJV).
When speaking with people who doubt that Jesus defeated the grave, do as Paul did. Simply remind them that:
• Jesus was seen by His friends after the resurrection;
• Jesus was seen by more than 500 people who became living testimonies to His resurrection;
• Jesus was seen by the disciples and the apostles, many of whom gave their lives in defending the truth of Jesus Christ;
• Paul himself, once a great persecutor of believers, saw Jesus fully alive and bore out this fact throughout his ministry.
Further, when speaking about the resurrection, let Romans 1:16 empower you. That verse reads, "For I am not ashamed of the gospel of Christ, for it is the power of God to salvation for everyone who believes…"
Speak out in confidence as you defend the Gospel and the resurrection. Allow God's wisdom and power to fuel your words and your daily testimony.
I hope you will not be discouraged by the world's disdain for our message because we are seeing salvations all over the globe! Praise God for these salvations, as they inspire us to carry on proclaiming the Gospel!
Do not grow weary because we are seeing souls saved in our nation and across the globe; we are witnessing lives being gloriously changed.
The Gospel of Jesus Christ has stood the test of time and every challenge that man has used to try to denounce it. We, His followers, must remain strong, humble and wise as we continue to defend the Gospel and the resurrection. It is easy to be silent, but Christ calls us to be ambassadors of His Truth. That is what this ministry is all about.
As you live out your faith in Him, remember the great words of Philippians 3:10-11: "that I may know Him and the power of His resurrection, and the fellowship of His sufferings, being conformed to His death, if, by any means, I may attain to the resurrection from the dead."
Your friend in Christ,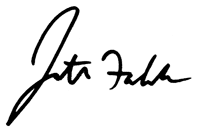 Jonathan Falwell